Home Page
Planning and Environment Committee
A meeting of the Planning and Environment Committee will be held on Monday, 5 June 2023 at 7pm at The Municipal Buildings, Dorchester. 
Planning Applications for Comment
The Planning Applications that have been received to date (24/05/2023) to be discussed at the Planning and Environment Committee meeting to be held on Monday, 5 June 2023 can be viewed under the Committees tab. If you wish to make a comment on any of the applications please email the Clerk to the Committee, Georgina Wakely G.Wakely@dorchester-tc.gov.uk by 9am on Wednesday, 31 May 2023.
Job Vacancy
Relief Town Hall Keeper
Applications are invited for the post of relief Town Hall Keeper within the Municipal Buildings (Corn Exchange), Dorchester.  This is an exciting opportunity to work with staff from Dorchester Town Council and Dorchester Arts to provide caretaking duties at the Municipal Buildings which host a variety of meetings, events, performances and other community activities at weekdays and weekends both daytime and evenings.
The successful candidate will be required to cover sickness and holidays and will be paid £10.98 per hour (pay rise pending) and membership of a contributory pension scheme is available. The successful candidate will initially be required to work 37 hours per week (including weekends and evenings) for a period of two months and then working on  a casual basis as requested by the Venue Manager.
When on duty the person appointed will be responsible for the cleanliness and maintenance of the Municipal Buildings and preparing them for hirers.  Experience of dealing with the public in person is necessary and a knowledge of sound and lighting equipment would also be an advantage. You may be required to undertake duties in the evening and weekend.
If you would like an informal discussion about this job please contact Sam Wood, Venue Manager, Dorchester Arts 01305 266926.
Application details can be downloaded here or by emailing admin@dorchester-tc.gov.uk or by telephoning 01305 266861.
Completed application forms should be returned by post or by email by 4.00pm on 31st May 2023. 
Interviews will take place on either 7th or 8th June.
The Council is an Equal Opportunities Employer.                 
Steve Newman
Town Clerk
Cost of Living Help and Warm Spaces
Information regarding what cost of living help is available can be found here. This includes useful links to help access food, financial advice and housing.
A list of warm spaces, where you can be assured of a warm and friendly environment, can be found here.
Dorchester Town Council
We are the parish authority for the county town of Dorset.  There has been a history of local government in the town since Anglo Saxon times and Dorchester has been the county town since 1305.  It has elected a mayor since 1629.  The Town Council was created in 1974.
The town has a population of around 20,000, which continues to grow quickly with the expansion of Dorchester at Poundbury and Brewery Square.  The Town Council provides a range of community and recreational facilities, and promotes the town's interests with the other statutory bodies that operate in the town, notably the Dorset Council.
The Town Council has 20 members in five wards, elected for a period of 5 years.  Elections to the Town Council took place on 2 May 2019, - results for each ward. 
Mayor of Dorchester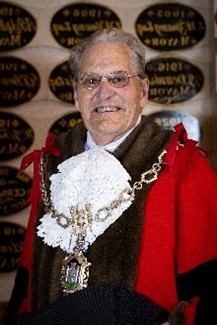 Councillor Alistair Chisholm will serve as Mayor for the Council year to 20 May 2024. Alistair will be supported by the Mayoress, Kate Hebditch and Councillor Janet Hewitt as Deputy Mayor. His chosen charities for his Mayoral year are Dorchester Poverty Action Group and Mosaic. 
If you would like to invite the Mayor to an event that you are organising please download a Mayoral Engagement form or contact Georgina Wakely, the Mayor's Secretary.
- Mayor's engagements for the forthcoming week
Watch Alistair's Mayor Making Ceremony here