Home Page
Full Council
A meeting of the Dorchester Town Council will be held on Monday, 27 March 2023 at 7pm at The Municipal Buildings, Dorchester. A copy of the agenda can be found under the 'Committee' tab of this website.
Planning and Environment Committee
A meeting of the Planning and Environment Committee will be held on Monday, 3 April 2023 at 7pm at The Municipal Buildings, Dorchester. 
Planning Applications for Comment 
The Planning Applications that have been received to date (22/03/23) to be discussed at the Planning and Environment Committee meeting to be held on Monday, 3 April can be viewed under the Committees tab. If you wish to make a comment on any of the applications please email the Clerk to the Committee, Georgina Wakely G.Wakely@dorchester-tc.gov.uk by 9am on Wednesday, 29 March 2023.
Cost of Living Help and Warm Spaces
Information regarding what cost of living help is available can be found here. This includes useful links to help access food, financial advice and housing.
A list of warm spaces, where you can be assured of a warm and friendly environment, can be found here.
Dorchester Town Council
We are the parish authority for the county town of Dorset.  There has been a history of local government in the town since Anglo Saxon times and Dorchester has been the county town since 1305.  It has elected a mayor since 1629.  The Town Council was created in 1974.
The town has a population of around 20,000, which continues to grow quickly with the expansion of Dorchester at Poundbury and Brewery Square.  The Town Council provides a range of community and recreational facilities, and promotes the town's interests with the other statutory bodies that operate in the town, notably the Dorset Council.
The Town Council has 20 members in five wards, elected for a period of 5 years.  Elections to the Town Council took place on 2 May 2019, - results for each ward. 
Mayor of Dorchester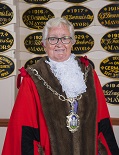 Councillor Janet Hewitt will serve as Mayor for the Council year to 22 May 2023.  Janet will be supported by Husband, David as Mayor's Consort and Councillor Gareth Jones as Deputy Mayor. Her chosen charities for her Mayoral year are Wessex Life Saving, Cancer Research, Research into Parkinson's Disease, and support to Ukrainian families living in our Town.
 If you would like to invite the Mayor to an event that you are organising please download a Mayoral Engagement Form or contact Georgina Wakely, the Mayor's  Secretary. 
- Mayor's engagements for the forthcoming week
Watch Janet's Mayor Making Ceremony here.