Home Page
Planning and Environment Committee
A meeting of the Planning and Environment Committee will be held on Monday, 6 February 2023 at 7pm at The Municipal Buildings, Dorchester. 
Planning Applications for Comment 
 If you wish to make a comment on any of the applications please email the Clerk to the Committee, Georgina Wakely admin@dorchester-tc.gov.uk by 9am on Monday, 6 February 2023. 
Job Vacancy - Assistant Town Clerk (Corporate)
  Salary Range SCP 37-39  £43,516  – £45,495
Dorchester Town Council is the parish authority for the County Town of Dorset, a Roman town in the heart of an area of outstanding natural beauty, close to the Dorset Coast World Heritage Site and the home of Thomas Hardy.
The Council is one of the more active town and parish councils in England, providing a wide range of services which all help to make Dorchester an even nicer place to live.
It is inviting applications for the permanent, full-time post of Assistant Town Clerk (Corporate) to play a key role in the management and development of the Council.
An application pack for the job can be downloaded here.
An application form can be downloaded here.
A paper copy of the application details is available by telephoning 01305 266861.
The closing date for applications will be midnight on Friday 10 February 2023 and interviews will be held on 1 or 2 March 2023.
Cost of Living Help and Warm Spaces
Information regarding what cost of living help is available can be found here. This includes useful links to help access food, financial advice and housing.
A list of warm spaces, where you can be assured of a warm and friendly environment, can be found here.
Dorchester Town Council
We are the parish authority for the county town of Dorset.  There has been a history of local government in the town since Anglo Saxon times and Dorchester has been the county town since 1305.  It has elected a mayor since 1629.  The Town Council was created in 1974.
The town has a population of around 20,000, which continues to grow quickly with the expansion of Dorchester at Poundbury and Brewery Square.  The Town Council provides a range of community and recreational facilities, and promotes the town's interests with the other statutory bodies that operate in the town, notably the Dorset Council.
The Town Council has 20 members in five wards, elected for a period of 5 years.  Elections to the Town Council took place on 2 May 2019, - results for each ward. 
Mayor of Dorchester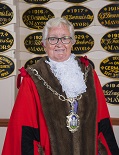 Councillor Janet Hewitt will serve as Mayor for the Council year to 22 May 2023.  Janet will be supported by Husband, David as Mayor's Consort and Councillor Gareth Jones as Deputy Mayor. Her chosen charities for her Mayoral year are Wessex Life Saving, Cancer Research, Research into Parkinson's Disease, and support to Ukrainian families living in our Town.
 If you would like to invite the Mayor to an event that you are organising please download a Mayoral Engagement Form or contact Georgina Wakely, the Mayor's  Secretary. 
- Mayor's engagements for the forthcoming week
Watch Janet's Mayor Making Ceremony here. 
Municipal Buildings Development
We're helping reduce Dorset's footprint! With the help of Low Carbon Dorset and the European Regional Development Fund we have installed a biomass heating system, solar panels, LED lighting, a heat recovery system and destratification fans in the Municipal Buildings. As a result, we will be saving an estimated 52.7 tonnes of CO2 from the Dorset air each year whilst reducing the energy use by an estimated 214,739 Kilowatt hours per year!
 
Kings Road Steam Roller Update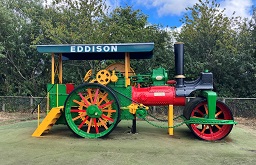 ITS BACK !!
After many months of hard painstaking work the steam roller is back and open in Kings Road play Area.
We are so pleased to be able to say come and enjoy this icon of Dorchester's industrial heritage. Much loved by many in Dorchester and a magnet for children over the many decades it has been on site the Engine is finally repaired and ready to last another century.
Whilst doing the work we learned a lot about the engine, first and foremost how decayed it actually was.
We are very relieved to have taken the decision to do the remedial work when we did as the corrosion inside the old engine was extensive and significant.
We also learned that the engine had many many many drivers over the years, or so all their now adult grandchildren told us whilst it was being repaired! It appears lots of grandads over the years took their grandchildren to the engine to play and told them they used to drive it; it must have been a very busy engine!
We are very grateful to William at Spitfire forge for the work and time he put into the repair work, making sure that it was fit for many generations to come. He went above and beyond the role of simply affecting repairs which has been a huge help.
We are sorry we couldn't do the official opening recently the fire risk associated with our invited working engine friends was just too great. We hope to do a dedication sometime in the future.
For the moment its welcome back to a much missed friend. !!