Home Page
Planning and Environment Committee
A meeting of the Planning and Environment Committee will be held on Monday, 3 October 2022 at 7pm at The Municipal Buildings, Dorchester
Planning Applications for Comment 
 If you wish to make a comment on any of the applications please email the Clerk to the Committee, Georgina Wakely G.Wakely@dorchester-tc.gov.uk by 9am on Wednesday, 28 September 2022.
Proclamation of King Charles III
A video of the Proclamation of King Charles III held on Sunday 11 September 2022 at the Town Pump can be viewed here.
National Moment of Reflection
An audio recording and photos of the Service of Reflection in respect of Her Majesty Queen Elizabeth II held on Sunday 18 September 2022 at the Borough Gardens can be viewed here.
Flowers and Book of Condolence 
The bandstand in the Dorchester Borough Gardens is available for those wishing to lay flowers. In line with protocol the flowers will be removed after seven days from the date of the funeral. They will then be composted to go towards the planting of a commemorative tree. 
An online book of condolences is available on the Royal website: www.royal.uk
Her Majesty Queen Elizabeth II Visits Dorchester
A short film of Her Majesty Queen Elizabeth II visiting Dorchester very early in her reign can be viewed here. 
Dorchester Town Council
We are the parish authority for the county town of Dorset.  There has been a history of local government in the town since Anglo Saxon times and Dorchester has been the county town since 1305.  It has elected a mayor since 1629.  The Town Council was created in 1974.
The town has a population of around 20,000, which continues to grow quickly with the expansion of Dorchester at Poundbury and Brewery Square.  The Town Council provides a range of community and recreational facilities, and promotes the town's interests with the other statutory bodies that operate in the town, notably the Dorset Council.
The Town Council has 20 members in five wards, elected for a period of 5 years.  Elections to the Town Council took place on 2 May 2019, - results for each ward. 
Mayor of Dorchester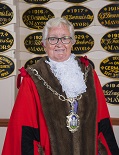 Councillor Janet Hewitt will serve as Mayor for the Council year to 22 May 2023.  Janet will be supported by Husband, David as Mayor's Consort and Councillor Gareth Jones as Deputy Mayor. Her chosen charities for her Mayoral year are Wessex Life Saving, Cancer Research, Research into Parkinson's Disease, and support to Ukrainian families living in our Town.
 If you would like to invite the Mayor to an event that you are organising please download a Mayoral Engagement Form or contact Georgina Wakely, the Mayor's  Secretary. 
- Mayor's engagements for the forthcoming week
Watch Janet's Mayor Making Ceremony here. 
Kings Road Steam Roller Update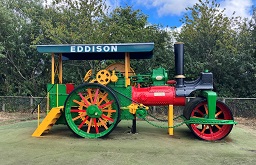 ITS BACK !!
After many months of hard painstaking work the steam roller is back and open in Kings Road play Area.
We are so pleased to be able to say come and enjoy this icon of Dorchester's industrial heritage. Much loved by many in Dorchester and a magnet for children over the many decades it has been on site the Engine is finally repaired and ready to last another century.
Whilst doing the work we learned a lot about the engine, first and foremost how decayed it actually was.
We are very relieved to have taken the decision to do the remedial work when we did as the corrosion inside the old engine was extensive and significant.
We also learned that the engine had many many many drivers over the years, or so all their now adult grandchildren told us whilst it was being repaired! It appears lots of grandads over the years took their grandchildren to the engine to play and told them they used to drive it; it must have been a very busy engine!
We are very grateful to William at Spitfire forge for the work and time he put into the repair work, making sure that it was fit for many generations to come. He went above and beyond the role of simply affecting repairs which has been a huge help.
We are sorry we couldn't do the official opening recently the fire risk associated with our invited working engine friends was just too great. We hope to do a dedication sometime in the future.
For the moment its welcome back to a much missed friend. !!
Weymouth Avenue Cricket Pavilion
In a bid to reduce Dorchester Town Council's carbon footprint we have installed Ground Source Heating and a water bore hole at the Weymouth Avenue Cricket Pavilion.
Our project has been part funded by Low Carbon Dorset as part of the European Regional Development Fund and it increases the capacity of renewable energy deployed in Dorset (output C30) by 15kW. It reduces Dorset's greenhouse gas emissions (output C34) by 16.5 tCO2e/yr. It reduces the import of primary energy into public buildings (output C32) by 31,700 kWh/yr.