Home Page
Notice of Meeting
A meeting of the Policy Committee will be held via ZOOM VIDEO CONFERENCING on Monday 21 September 2020 commencing at 7.00pm.
The agenda for the meeting, along with the Zoom link and the clerk's contact details, can be found under the Committees Tab.  Public comments and communications should be addressed to the clerk by 09:00 on 21 September 2020.  
---
Heritage Open Day 2020
Our  'Virtual Dorchester' online celebration is still available for viewing.
The event supports national Heritage Open Days and the 2020 theme of 'Hidden Nature
Dorchester Town Council
We are the parish authority for the county town of Dorset.  There has been a history of local government in the town since Anglo Saxon times and Dorchester has been the county town since 1305.  It has elected a mayor since 1629.  The Town Council was created in 1974.
The town has a population of around 20,000, which continues to grow quickly with the expansion of Dorchester at Poundbury and Brewery Square.  The Town Council provides a range of community and recreational facilities, and promotes the town's interests with the other statutory bodies that operate in the town, notably the Dorset Council.
The Town Council has 20 members in five wards, elected for a period of 5 years.  Elections to the Town Council took place on 2 May 2019, - results for each ward. 
Mayor of Dorchester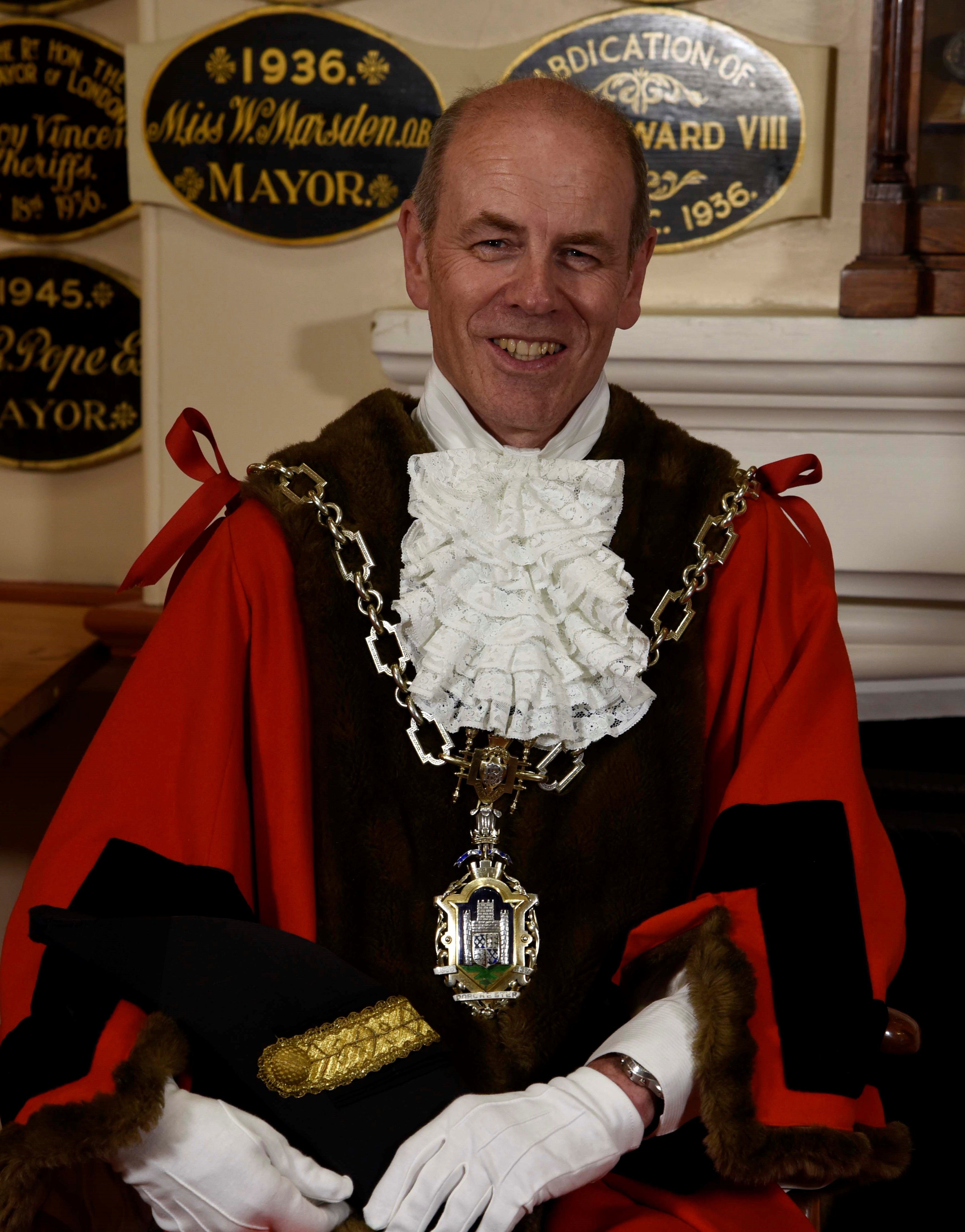 At the Full Council meeting on Monday, 18 May 2020 held online due to the Covid -19 Pandemic, Councillor Richard Biggs was appointed Mayor of Dorchester for a successive year, the first time that this has happened in over 60 years. It was also agreed that Councillor David Taylor would continue in his role as Deputy Mayor.
First elected to the Council in 1993, Richard also previously served on West Dorset District and Dorset County Councils and was elected to  the Dorset Council in May 2019. He previously served as Mayor in 1997–98, 2005-06 and 2019-20.
Richard has lived in Dorchester all of his life.  He will be supported by his wife, Carolyn as Mayoress.  He will  look to support local charities working to help recovery and emerging legacy projects, to which underspends from this year's Civic fund will be added.    
If you would like to invite the Mayor to an event that you are organising please download a Mayoral Engagement Form or contact Georgina Wakely, the Mayor's  Secretary. 
- Mayor's engagements for the forthcoming week
Covid-19 
For the latest Town Council information please visit and like our Facebook Page
 Foodbanks
Three foodbanks currently operate in Dorchester. The Dorchester Foodbank and Food Share take referrals or you can self-refer to the Dorchester Community Kitchen. For details or to find out how to support/donate to their vital work, 
Dorchester Town Council would like to thank all of the amazing volunteers who are involved in these and other projects providing essential support at this time.
Useful Links
Dorchester Town Council Services - Latest Position
Our office at 19 North Square is open to enquiries from 10.00am to 2.00pm Monday to Friday.
All reasonable precautions have been taken and Government guidance has been followed. A copy of the Covid-19 Risk Assessment and Decision Notice .
The Municipal Buildings including the Corn Exchange is closed until further notice.
Maumbury Rings August Bank Holiday Events - Unfortunately the Anonymous Festival and Bank Holiday Monday Music Day have both been cancelled this year.
Play Areas - the play areas are open as from 4 July. Please maintain social distancing, sanitise your hands, before during and after using the play area. Was your hands for at least 20 seconds when you get home. If the play area is busy please wait or come back another time. Play safe and stay alert to the virus.
The Skatepark is open.  Skate safe and respect social distancing.
Borough Gardens are open.  Tennis courts, play area, the refreshment kiosk and kiosk toilets are also open. Borough Gardens House is unavailable to hire until further notice.  All June / July events have been cancelled. 
Allotments - Sites are open.  We remind plot holders to social distance and not to use dip tanks to wash hands or items that may be contaminated.   

Cemeteries and Burials - Our cemeteries are open.
Government has restricted the number of mourners attending Burials to 10 people, plus Funeral Directors.  We appreciate that this will be distressing for the bereaved; once lockdown is over families will have the opportunity of holding another service at the graveside.  Funeral Directors will be in touch with families to help make necessary arrangements. 
Dorchester's response to the Climate Emergency
The Town Council has recently adopted a Climate Emergency Preliminary Response document, where we describe how we will
Reduce the use of fossil fuels in our buildings, vehicles and equipment, and also those of our contractors
Work with our community partners (Sport, Culture, Business, Youth, etc) to reduce their carbon footprints
Help groups in Dorchester to get climate related messages across to the wider community
We welcome views on the Preliminary Response document and would also welcome the opportunity to discuss our plans with interested groups.  If you have any comments please use the Contact Us form at the top of this page.
2019 Events Videos