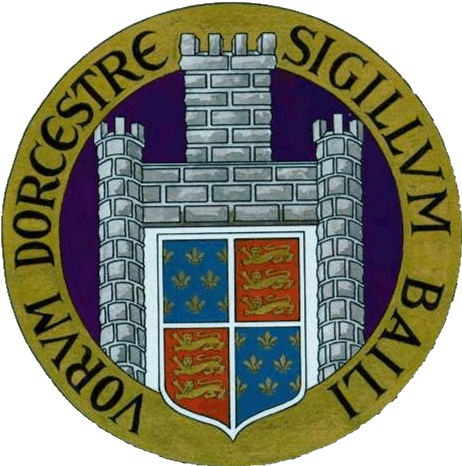 The town seal represents part of the town walls - or the castle which used to stand where the prison is now depending on one's point of view - standing on a purple background and with quartered lions and French fleur-de-lys.  The royal purple background signifies Dorchester's status as part of the private estates of the king since before Domesday while the lions were, apparently, on the shields of Dorset men who fought at the Battle of Agincourt on 25 October 1415.
The fleur-de-lys are unusual because they are scattered (semée is the proper heraldic word) rather than the more usual triangular arrangement.  Dorchester's seal is the only one to use fleur-de-lys in this way, which shows that the town had the right to bear the arms of France before 1405 when they were altered by King Henry VI.
The inscription 'Sigillum Bailivorum Dorcestre' means 'The Seal of the Bailiffs of Dorchester'.
Click here to download a picture of the seal and another (slightly different!) description.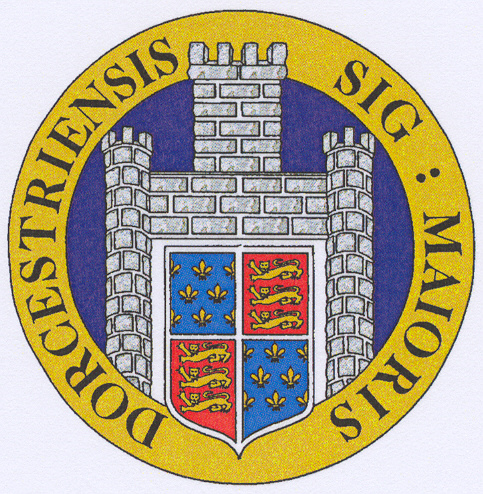 Dorchester is unusual in that the Mayor also has a seal, pictured here, similar to the Town Seal but with a different inscription.  The Mayoral Seal no longer has any status in law but it is still used as a symbol to differentiate between matters relating to the Mayor as an individual and matters relating to the Council as a whole for which the Town Seal is used.