Home Page
Dorchester Town Council
Dorchester Town Council is the parish authority for the county town of Dorset, and was created in 1974.  There has been a history of local government in the town dating back to Anglo Saxon times and Dorchester has been the county town since 1305.  It has elected a mayor since 1629.
The town has a population approaching 20,000, which is growing quickly with the expansion of Dorchester at Poundbury and Brewery Square.  The Town Council provides a range of community and recreational facilities, and promotes the town's interests with the other statutory bodies that operate in the town.
The Town Council has 20 members, elected for a period of 4 years.  The next elections are in May 2019.  The Mayor, who also acts as Chairman of the Council, and the Deputy Mayor, are elected annually by the Council each May. 
Dorchester's Corn Exchange has it's own website which can be found at www.dorchestercornexchange.com
Mayor of Dorchester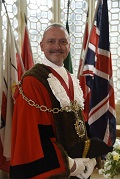 In May David Taylor was elected as Mayor for the town.  First elected to the Council in 2011 he has also served on West Dorset District Council since 2015.
He has lived in Dorchester since 1997.  Having had a career in catering and retail he currently works as a Playworker at Manor Minors and Ossie All Stars Out of School Club, a job he loves.  His focus for the year is on community needs, particularly support for those who suffer from issues associated with drugs, debt, family and mental and physical health.      
David will fundraise for four organisations during the year - Dorchester Youth Club, Keep 106FM, HomeStart and MIND. If you would like to read Councillor David Taylor's speech which was read at the Mayor making ceremony please click here.
David will be supported by Martin Shepherd, as Mayor's Consort, with Councillor Susie Hosford as Deputy Mayor. If you would like to invite the Mayor to an event that you are organising please click here to download a Mayoral Engagement Form. Alternatively please contact the Mayor's Secretary, Georgina Wakely. For a list of the Mayor's engagements for the forthcoming week please click here.
---
Dorchester Poppy Trail
On Wednesday 7 November 2018 the new Dorchester Poppy Trail was launched. 
Created to mark the 100 year anniversary of the Armistice in November 2018, the Dorchester Poppy Trail leaflet, panels and Resource pack give a fascinating insight into the town's First World War history. To download the Poppy Trail leaflet and additional Resource pack click here. 
WDDC Consultation on the Local Plan Preferred Options – Policy DOR15
On 25 September 2018 Council resolved that the Town Council submit a formal objection to Policy DOR15, recognising that this specific site carries a significant level of risk that it will fail to address the local needs of the Town, nor will it produce a comprehensive, relevant, viable and sustainable development that supports the area's future rather than destabilising it.
The detailed objection is available here.   
Alternative views on Policy DOR15 are also be available from Dorchester Civic Society (click here) or by contacting STAND (Save the Area North of Dorchester) at north.dorchester@gmail.com.