THE BUILDINGS
The Municipal Buildings in Dorchester are generally known as the Corn Exchange, a distinctive feature of the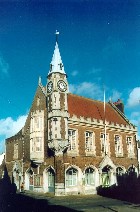 town, they are grade II* listed and date back to the mid nineteenth century. The Buildings are comprised of the Corn Exchange, the Town Hall, the Magistrates Room, the Council Chamber together with ancillary facilities including a full catering kitchen and dressing rooms. The Buildings are licensed for civil weddings/partnerships and are an ideal venue for many different types of events:-
Civil Wedding Ceremonies and Receptions, (hold your entire day under the one roof)
Meetings, Training Days or Seminars
Birthday Parties or Fashion Shows
Trade Sales
Theatrical Performances
The Council offers very competitive prices, full kitchen facilities, which enables you to use your own caterers, free bar facilities which have recently been refurbished, easy disabled access to the ground floor and a lift to the Town Hall and Council Chamber on the the first floor. We also have flexible staging, extensive stage lighting and audio systems.
ROOM CAPACITIES
The Corn Exchange - up to 250
The Town Hall - up to 120
The Magistrates Room - up to 40
The Council Chamber - up to 50
SESSION TIMES
The rooms within the Buildings are hired for 'sessions' the times of which are:-
8.00am - 1.00pm
1.00pm - 5.00pm
5.00pm - 11.00pm
You may book additional hours over and above these sessions to suit your needs.
CHARGES
Our pricing structure varies between Charitable, Non Commercial and Commercial rates, so please contact the Municipal Buildings Administrator for an exact quote. 
Corn Exchange Pricing Structure. 
OTHER INFORMATION
There will be a caretaker on duty throughout any event held on the premises. Outside of office hours limited parking can usually be arranged in the adjacent private car park for organisers and staff. A deposit may be required for parties, wedding receptions etc.
ENQUIRIES/BOOKINGS
All bookings are dealt with by Julie Hollings, the Municipal Buildings Administrator, who will treat your enquiries on a friendly, personal basis. To view any of the rooms in the Municipal Buildings or if you would like to make a booking please contact Julie on 01305 819039 or e-mail her at cornexchange@dorchester-tc.gov.uk. Booking forms are available to download below but you are recommended to contact Julie prior to completion to ensure availability of your desired room etc.
Other downloads are available -
Booking form for Corn Exchange
Booking form for Council Chamber
Booking form for Dressing Rooms
Booking form for civil wedding ceremony