Home Page
Dorchester Town Council
Dorchester Town Council is the parish authority for the county town of Dorset, and was created in 1974 as the succesor authority to Dorchester Borough Council.  There has been a history of local government in Dorchester dating back to Anglo Saxon times and Dorchester has been the county town since 1305.  It has elected a mayor since 1629.
The town has a population approaching 20,000, which is growing quickly with the expansion of Dorchester at Poundbury and Brewery Square.  The Town Council provides a range of social and recreational facilities, and promotes the town's interests with the other statutory bodies that operate in the town.
The Town Council has 20 members, elected for a period of 4 years.  The next elections are in May 2019.  The Mayor, who also acts as Chairman of the Council, and the Deputy Mayor, are elected annually by the Council each May. 
Dorchester's Corn Exchange has it's own website which can be found at www.dorchestercornexchange.com
Please click here to view the calendar of meetings.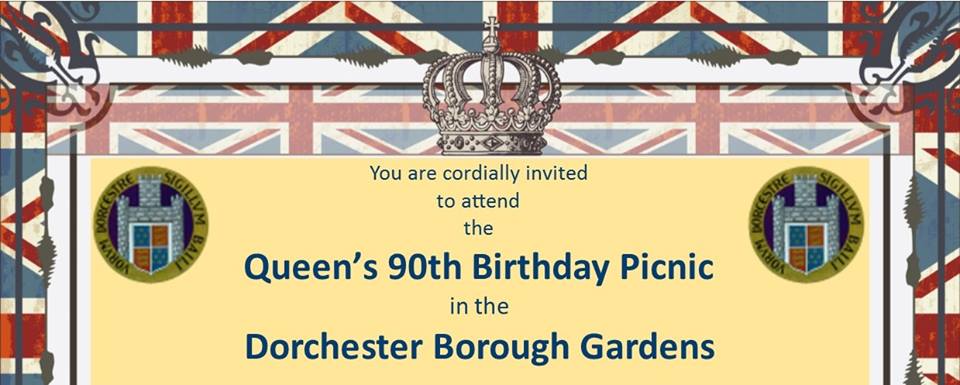 SUNDAY, 12 JUNE
12PM -8PM
A 'Picnic Style' Street Party to celebrate Queen Elizabeth II's 90th Birthday. 

With live music from the Mill Street Jazz Band, Viva! Community Choir & The Heavens and Shooter. 

There will also be a large screen broadcasting the live coverage from the Mall in London.

A free event brought to you by Dorchester Town Council.
For more information Click Here
Mayor of Dorchester
Councillor Tim Harries will serve as Mayor for the Council year from 23 May 2016 to 22 May 2017 when a new Mayor will be elected. If you would like to read Councillor Tim Harris' speech which was read at the Mayor making ceremony please click here.
He will be supported by Anita Harries, as Mayoress, with Councillor Robin Potter as Deputy Mayor. If you would like to invite the Mayor to an event that you are organising please click here to download a Mayoral Engagement Form. Alternatively please contact the Mayor's Secretary. For a list of the Mayor's engagements for the forthcoming week please click here.